Baking with kids is a journey filled with laughter, flour-dusted hands, and the sweet aroma of anticipation. It's a magical experience that goes beyond measuring ingredients and following recipes. In this article, we embark on a delightful adventure, exploring fun and easy cake recipes that will ignite your children's imaginations and create cherished moments of togetherness. So gather your tiny bakers, slip on your aprons, and let's dive into the world of baking delights that will bring your family closer.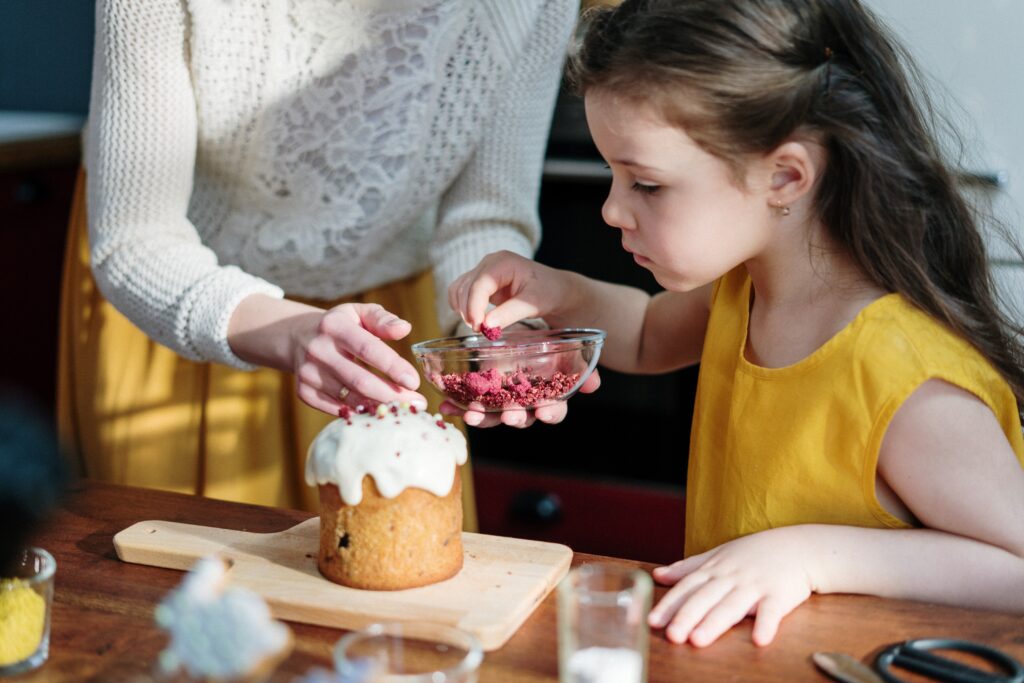 Unveiling the Joyful Benefits of Baking with Kids
Baking with kids is not just about the end result; it's about fostering creativity, building self-confidence, and nurturing valuable life skills. As you embark on this culinary journey together, you'll witness their eyes sparkle with wonder, their hands dance with excitement, and their confidence soar with each successful creation. Beyond the kitchen, these shared moments become the foundation of a strong and loving family bond.
Easy Cake Recipes to Ignite Young Imaginations
Enchanted Fairy Garden Cake
Picture a cake that transports you to a whimsical garden straight out of a fairy tale. Start by layering our our moist banana cake and artfully stack them one on top of another. As you adorn the cake with delicate pastel-colored buttercream frosting, watch how rolling hills and meadows take shape before your eyes. Enhance the enchantment by placing edible flowers, like daisies and pansies, as if they've blossomed magically on the cake. Imagine gummy butterflies fluttering gently atop the blooms, adding our Banoffee Bar as ladder to the enchanted garden. And for that extra sprinkle of magic, delicately dust the cake with edible glitter, letting it shimmer and dazzle like a fairy's spell.
Silly Monster Cake Pops
Get ready to giggle and unleash your creativity with these delightful cake pops that embody silly monsters. Start by baking a batch of vibrant, colorful cake and crumble it into delicate crumbs. Mix the crumbs of the marble cake with frosting to form a moist, delectable mixture that can be shaped into a variety of charming monster faces. Encourage your little ones to use their hands or small cookie cutters to mold the cake mixture into unique and hilarious monster shapes. Insert lollipop sticks into each cake pop, giving them their playful appearance. Watch as your children's imaginations take flight as they decorate these whimsical creatures with candy eyes, licorice hair, and candy horns or antennas. The possibilities are as endless as their laughter and creativity.
Dinosaur Adventure Cake
Embark on an exciting journey to prehistoric times with a show-stopping dinosaur-themed cake. Begin by baking multiple layers of decadent light chocolate cake, and then skillfully carve and shape them to form the body, head, and tail of a majestic dinosaur. As you layer the cake, a prehistoric creature starts to emerge. Coat the entire creation with luscious chocolate buttercream frosting, bringing the dinosaur to life with each smooth stroke. Add an element of authenticity by adorning the cake with edible scales made from small candies or chocolate chips, arranged meticulously along its back and sides. To create a lush, prehistoric landscape, consider using crushed chocolate cookies or vibrant edible green fondant. As the finishing touch, place edible toy dinosaurs strategically around the cake, making it a truly immersive and jaw-dropping experience.
Space Odyssey Cupcakes
Prepare for an otherworldly adventure as you embark on a cosmic journey through space with these captivating space-themed cupcakes. Begin by baking your favorite cupcakes, be it vanilla or chocolate, and patiently await their arrival from the oven. Once cooled, cover the cupcakes with a midnight blue or deep purple buttercream frosting, creating a canvas that mirrors the expanse of the night sky. With edible silver or gold glitter, sprinkle the cupcakes, giving rise to swirling galaxies that sparkle like distant stars. Bring the universe to life by placing shimmering edible stars, crafted from fondant or candy, atop the cosmic backdrop. For the final touch, crown each cupcake with edible astronaut figurines or candy rocket ships, propelling your taste buds into a realm of flavor and wonder.
Embrace the Moments, Savor the Memories
Baking with kids is not solely about the delectable cakes; it's about the joy of being present in each moment. Cherish the laughter, celebrate their imaginative creations, and indulge in the pure delight of tasting their masterpieces. These baking adventures will forever hold a special place in your hearts, creating treasured memories that will be recounted for generations to come.